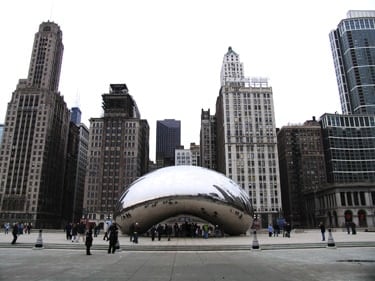 I consider myself a spiritual person, but not necessarily a religious one. The past year has brought me new friends, exciting experiences, and the ability to share my thoughts, photos, interests, and imagination with many people through the magic of the internet. I believe our ability to connect as people is what brings us closer to the higher power at the heart of our existence. As such, Towleroad this year has been something of a religious experience for me.
This is a photo of Cloud Gate, a sculpture known more affectionately to Chicagoans as "The Bean". Its inspiration was liquid mercury, and like that substance it has fluidity because its surface consists of the moving reflections of the city around it. As a piece of public art it functions in a way I've hoped this blog might function — as a fun, ever-changing creation which people might like to visit, and while here leave a bit of themselves, or perhaps look into and see a common segment of humanity looking back.
2004 has brought both advances and defeats for gay people, and has brought war and unfathomable natural disasters to the world at large. In 2005 I pray for peace and further advances towards equality for the disadvantaged and the disenfranchised around the world. I want to thank everyone for visiting Towleroad this year and thank the sponsors for their support as well as those whose contributions have made this site a lively entity.
Most of all, I wish you health, happiness, success, and lust for life in 2005.
HAPPY NEW YEAR!
Andy Towle