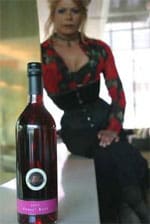 The Age reports on Pansy wine, created in New Zealand for homosexuals and recently launched around Melbourne's gay and lesbian cultural festival.
Is having a drag queen named Onya Knees hawking your wine what you want if you're trying to add some class to the brand, or is it a brilliant way to market a rose (with added sugar) that "smells like Redskin lollies and…tastes sickly sweet?"
The winemaker, Kim Crawford Wines, describes the wine as follows:
Colour: Cherry in colour with mauve edges.
Aroma: Ripe Pacific Rose apple and sherbet aromas abound. Complexed with hints of bisto.
Palate: A fruity little number. The wine has great fruit intensity, with juicy fruit and watermelon characters. Full bodied the wine finishes well with a hint of tannin.
Sounds like a gay version of Sideways. But will Pansy! (I keep forgetting that exclamation point) do for New Zealand rose what Sideways has done for Pinot Noir?
The Age thinks not: "When rose styles need to trade on freshness and thoughtless drinkability, Pansy! seems like someone wearing last season's party boa."
A Gay Old Wine [The Age]