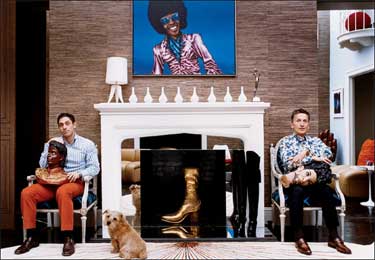 After reading Pilar Viladas' article in the NYT on the less-than-humble abode of designer Jonathan Adler and Simon Doonan, Apartment Therapy wonders if Adler has gotten too gay for the masses:
"Isn't there something no one is really saying? Aren't we (with our doubts) just another lilly-livered heterosexual who can't deal with Adler and Doonan's out-of-the-closet, I-am-not-doing-this-for-you-but-for-me, to-hell-with-Martha-Stewart-and-all-that-bullshit-safe-suburbany lifestyle/design?
We think this may be the rub. Adler has taken off the kid gloves and has given free reign to his "outlaw" side. He doesn't expect everyone to follow. He wants to shake things up. Hey, isn't this New York City's job? On this note, we say god bless him. We can't all be from Kansas…"
Their argument is that Adler has gone from "a universal, intuitive design sense to a hard-core niche." While Adler and Doonan's colorful palace of kitsch is way over the top, shouldn't some consideration be given to the fact that it is the home/domestic lab of two creative minds and that it's not necessarily meant to be marketed to the masses?
In any case, Adler and Doonan's home looks like a damn fun place for a party.
Jonathan Adler's Latest Style [Apartment Therapy]
That 70's House [NYT]
Slide Show — Adler and Doonan Home [NYT]