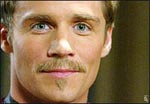 Fetching and flirtatious Dan Wells, whom you might remember masqueraded as gay on the barely bearable Bravo show Boy Meets Boy, has taken a part on Days of Our Lives — as a woman masquerading as a man. The part was created because Alison Sweeney, the actress who plays Sami Brady, has to take maternity leave, so a plotline was created wherein she disguises herself as a man in order to exact revenge on various characters that have crossed her. Thus, Dan's character Stan was born.
So how does Dan get into character?
"I tape my chest, as though I'm taping it down. As if I'm taping down breasts. It's weird. It's a weird feeling. I feel like there's something there, like I'm hiding something. I have that physical feeling. That really helps me. I talked a lot to Roy (Steinberg), as well, and he told me about some of the classes that he took in the past, when he was at Yale and such. He said, 'Dan, just be a woman. Walk around a room at a party and pretend you're a woman.' He'd had to do it for one of his acting exercises. All of a sudden I felt like I cared about my appearance a lot more, I cared about what people thought of me. I wanted a guy to come try to pick me up!"
Isn't that what he was trying to do on Boy Meets Boy? And didn't it work fairly well if I remember correctly? Reach back into your past, Dan — motivate!
(thanks Jim)