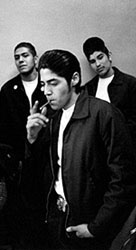 A new documentary that recently opened at the London Lesbian & Gay Film Festival sheds light on Morrissey's massive Latino fan base in Los Angeles, where his star burns as brightly as it did in the new wave 80's.
The Guardian has a look inside this phenomenon and reports that the Mexican immigrant's devotion to the sounds of 70's soul, doo-wop, and rockabilly plays a big part in the identification with the pompadoured pop star's old-fashioned persona.
The 42-year-old director William E. Jones apparently had a bit of trouble making inroads with Morrissey's cult following—until he styled his hair into a pompadour so he could fit in to the crowd at London is Dead, a club night devoted to the songs of the singer from Manchester. "People became much more approachable. They even asked to take my picture. It was a kind of initiation. We had something to share."

In the film Jones also touches on Morrissey's silence regarding his sexuality: "Jones says he was surprised at how chaste the fan events were, though he does hint that many of the predominantly male crowd may be adopting Morrissey's celibate stance while they discover their own feelings. Many of the fans in the film applaud Morrissey's self-denial, seeing it as behaviour becoming of such an enigmatic lyricist. (One fan does tell a tale of passing the lyric sheet of a Smiths album to his mother as a precursor to his coming out. She fairly quickly took the hint, reasoning that most of the tracks were love songs to men.)"
Morrissey's well-crafted mysterious persona seems to be having an effect on this crowd that echoes the one he had on thousands of melancholic college kids 20-odd years ago, yet according to one fan who saw him check out his own CDs in a music store and hop into a German sports car, he may not be the man he seems to be.
Mad About Morrissey [guardian]
Related
Morrissey: Viva L.A.? [tr]
Morrissey Endorses Anyone But Bush [tr]