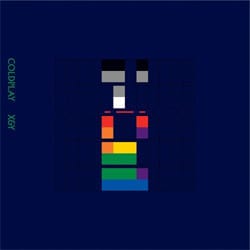 Coldplay has released the artwork for their third album which features color-coded blocks that supposedly reveal a secret code. (cue mysterious music)
"Bosses at record company Parlophone hope the intrigue surrounding the X&Y disc's artwork will pique the interest of fans the world over as they try to find the hidden meaning concealed [in] the eye-catching design."
The album, X&Y, is released on June 6.
It looks shockingly like the packaging for a bottle of cologne one might find at Gay Mart on Santa Monica Boulevard. Hence the reference to the XY chromosome.
Yeah, yeah, I know. I have to find the gay in everything. But this was just too damn easy. A game of Tetris after six pints of ale? Perhaps some homage to the Gwyneth-spawn in a cubist version of the early "Apple" computer logo? The answer's out there. Perhaps some clever Towleroad reader can solve it.