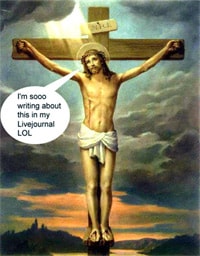 In a recent address in Massachusetts, Rev. Gene Robinson, the Episcopal Church's first openly gay bishop, sent traditional Anglicans through the roof by suggesting that Jesus didn't subscribe to the idea of a traditional family in an address called "Homosexuality and the Body of Christ: Is There a New Way?".
In answer to a question about "how the acceptance of homosexuality could be squared with the scriptural emphasis on redemption for sins" Robinson answered:
"Interestingly enough, in this day of traditional family values, this man that we follow was single, as far as we know, travelled with a bunch of men, had a disciple who was known as 'the one whom Jesus loved' and said my family is not my mother and father, my family is those who do the will of God. None of us likes those harsh words. That's who Jesus is, that's who he was at heart, in his earthly life. Those who would posit the nuclear family as the be all and end all of God's creation probably don't find that much in the gospels to support it."
The comments enraged traditionalists, who interpreted the disciple comment as inferring that Jesus was gay (as did the Telegraph reporter). "It is a wonder that thunder and lightning bolts don't strike Bishop Robinson down," said one evangelical commentator.
Robinson's spokesperson Mike Barwell defended the bishop's sermon. "Jesus was a non-traditional person who broke all the rules and hung out with all the wrong people. Anything else that people infer from the Bishop's comments is all speculation."
Later in his sermon, Robinson also made some bold comments about his own upbringing and the challenges gay and lesbian kids face at school and at home:
"I was terrified in high school, especially dreading the 10th grade [for 16-year-olds] when we would go into a gym class and have to go into the showers and I was absolutely terrified that I would get beaten to a bloody pulp if something happened in the showers that might indicate in some way that I was erotically attracted to boys my own age. It was a very lonely place to be. At least if you're black and you're called a nigger, you can go home to your mother and father and say, 'Oh my god, they called me a nigger today', and the parents have had the same experience. But a young kid growing up terribly fearful that he or she might be gay can't go home to the parents because of the consequences."
Jesus might have been homosexual, says the first openly gay bishop
[telegraph]
Illustration via Eat My Design