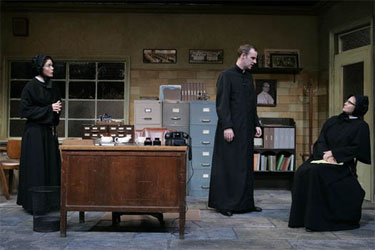 John Patrick Shanley, most famous for writing the 1987 film Moonstruck has won the 2005 Pulitzer Prize for Drama for his play Doubt.
Several weeks ago I had the pleasure of seeing this drama about a priest at St. Nicholas Church School in the Bronx who is accused by the school's head nun, Sister Aloysius, of molesting a young boy. Sister Aloysius, played by Cherry Jones, goes on a one-woman crusade to expel the priest, played by Brian F. O'Byrne, from teaching, even though she has no evidence — only suspicions — that he has misbehaved. The audience is never given any real evidence of his bad behavior either, and here's where the drama resides.
It's a superbly compelling, tightly-knit piece of theater with a four-person cast—Jones, O'Byrne, Heather Goldenhersh, and Adriane Lenox—that takes place in 1964 yet seems firmly relevant to the themes in contemporary religious affairs, where the role of "doubt" continues to be a starring one. Congrats to Mr. Shanley.