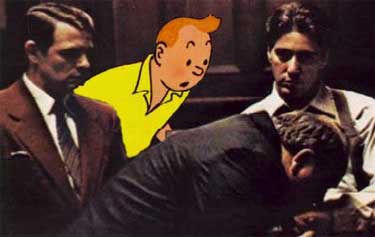 Miu over at A Socialite's Life has been following a bitter battle between the owners of 42 Below vodka, a New Zealand brand, and Brite Bar in Chelsea. Getting ugly press are a number of emails back and forth between the vodka company's president James Dale (no relation to the Boy Scout) and Brite Bar owner John Libonati. Miu got ahold of a few of the emails to Libonati which don't paint a very pretty picture of 42 Below's president:
Hello Fuckface,
if you are suggesting that we are anti gay then speak to my fuckin hand you fool. At least of four of the people on our team are gay and one of our best accounts in NYC in Lucky Chengs. PERHAPS YOU AER A REDNECK HOMOPHOBE WHO WANTS TO FEEL IMPORANT. WE WOULD NEVER LET YOUR SORRY ARSE HIPPE SHIT FCUK BAR CARRY 42 BELOW ANYWAY. So there dickhead.
No regards
USA Company President doing very well thanks
James D
At issue is this video, which Libonati says panders to the gay community with offensive stereotypes. For that reason he is refusing to stock 42 Below's vodka. Towleroad sees it doing about the same level of pandering and stereotyping that Queer Eye does, like a Jib-Jab video aimed at gays. While the script, read on its own, might be considered offensive, the images tell a more tongue-in-cheek story. I do agree with Miu, however that we should never be at war over vodka. Imho, both these guys should probably sit down and have a drink.