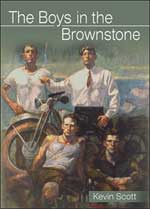 At a party for the new gay potboiler The Boys in the Brownstone
which chronicles the drama in a gay piano bar called The Brownstone, Mark Beard, who painted the cover of the new novel, waxed on about the two-story painting he's doing for the soon-to-open Abercrombie & Fitch store on Fifth Avenue in Manhattan, according to the New York Post.
The painting consists of (surprise!) "a slew of teenage hunks" that were sent to his studio for auditions. The crux of the story, however, is that a 26-year-old was sent away from the auditions cause he was just too old. It remains to be seen, however, whether or not a new boatload of naked beauties can do anything to save this brand from the irrelevance into which it continues to sink.