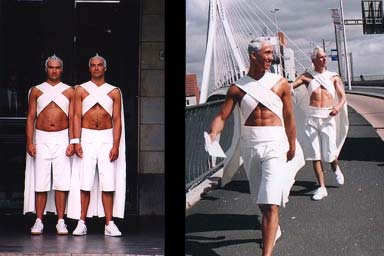 Two Israeli artists are installing themselves at Jack the Pelican Presents gallery in Brooklyn to make a statement about Arab-Israeli relations. It seems they'll also be making a statement (squarely aimed at controversy) about sex and relationships between men.
"As schoolkids, we were taught to hate Arabs. It was getting worse. There's no basis for communication, no understanding of their culture," one of the artists, Gil, told the New York Post. "As Israelis, we couldn't ignore it. We thought we must do something that will overwhelm the politics, so we decided to fall in love with an Arab."
Gil and Moti plan to seduce lonely Arab men who send them photos by exchanging email, inviting their suitors to the gallery to sleep with them, and painting watercolors of the experience. The "Sleeping with the Enemy" exhibit will also feature a gallery of previous conquests and a "do not disturb" curtain that will be drawn during the act.
The couple was married in the Netherlands in 2001. It seems this kind of exhibit is poised to stir debate in gay circles as well, for while it takes radical steps to illustrate the Arab-Israeli conflict, it also perpetuates the image of gay men as promiscuous and appears to treat the notion of "falling in love" with as much seriousness as a one night stand.