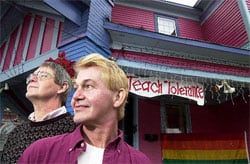 Via Bloggy comes news of the documentary Pink Houses, screening at the New York Film and Video Festival this evening.
John Schenck and Robert Loyd's story seems to exemplify some of the difficulties for gay people living in rural towns, particularly for those unwilling to sit quietly in the face of intolerance.
From an article in the Arkansas Democrat-Gazette:
"Schenck and especially Loyd don't mince words in the film. The take swipes at some of the area's residents, including those they consider bigots. They say they received death threats after a newspaper ran a story about their efforts to teach tolerance in a class at UCA.
'We were just trying to bring the community together, educate the children a little bit so they wouldn't grow up to be the same rednecks and haters that their parents were,' says Loyd, who grew up in Damascus.
In their 19 years in the Pink House, the two say, people have driven by and shouted derogatory names, shot at their house, broken their car windows and destroyed holiday decorations."
I can think of no more obvious target for homo haters than two gay hairstylists living in a pink house in rural Arkansas. And having a nine foot Energizer bunny on your lawn at Easter across the street from the church is certainly not shrinking from flamboyance. Arkansas is definitely not "think different" country. While many may not agree with their "out there" approach there is likely a lot to admire in their commitment and perseverance. And I bet these guys bake a great armadillo cake.