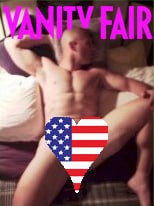 The Washington Post yesterday leaked some details from a forthcoming issue of VF regarding our least favorite gay hooker.
Howard Kurtz reports that "Gannon believes God bestowed a White House assignment on him so that he could atone for past transgressions."
So God (who is obviously a Republican) gave Gannon a press corps seat so he could atone for being a $200 an hour gay escort by lobbing soft questions at the President in order to facilitate the Bush administration's duplicitous and discriminatory agendas.
Can't wait to read this article. Gannon also apparently owes $21,000 in back taxes. It's shocking that God hasn't helped him out with that as well.
More on the upcoming article at The Washington Note…