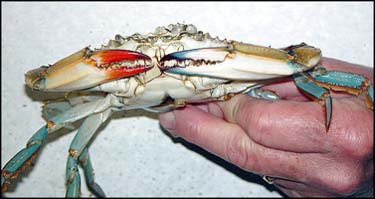 It's a freak of nature—a crab, half-male (blue-clawed), half-female (red-clawed), discovered by fishermen in Chesapeake Bay. The technical name for this phenomenon is "bilateral gynandromorph".
The more interesting part of this story is an experiment conducted on the crab, which now lives in a tank in the reception area of the Virginia Institute of Marine Science. A ready-to-mate female was dropped into its tank. After a bit of foreplay, the mixed-gender crab lost interest in the female, let her out of its claws, and then ate half of her the next day.
It's very possible that the red and blue crab is now happily satisfied having sex with itself. What I wonder, however, is if its young will be purple?
Part Male, Part Female, Fully Mysterious [washington post]
Related
The Provincetown Miracle Lobster [tr]
Is This Pumpkin Gay? [tr]
(thanks Jeremy & ubersub69)