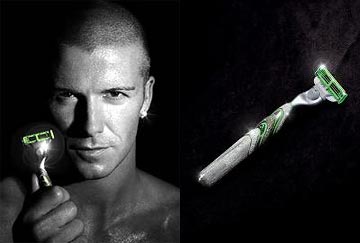 Gillette has given Becks a $50,000 diamond-encrusted razor.
"Oh my, this is cool – this is really cool," the British footballer said. "Boy, are my mates going to be jealous when I use this in the changing room. I reckon Victoria might want to nick it. I'll use it every day."
Air kisses all around.
Becks thanked Gillette: "I am really delighted with this razor. To have an M3Power customized for me is amazing and for Gillette to give it to me for Father's Day is a lovely gesture."
Unfortunately, the company didn't tell him replacement blades cost $2,000 each.