The New York Times investigates gay sex in gym locker rooms. Just what is going on in the showers and steam rooms of Gotham's health clubs? "At certain times of day, their showers and steam rooms are not crowded. A closed door – or the fog of steam – make it easy for men engaging in sexual activity to elude detection."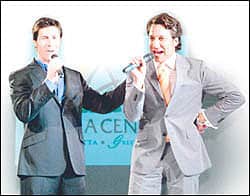 Thrilla in Manila: Queer Eye duo Thom and Kyan tickle the Philippines pink.

Canadian military presides over its first same-sex wedding in Nova Scotia.