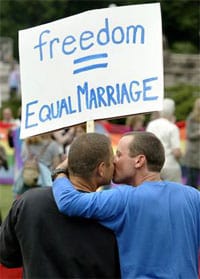 Canada today became the third country in the world, along with Belgium and the Netherlands, to legalize same-sex marriage. Legislators voted 158-133 in support of the bill.
Prime Minister Paul Martin spoke out shortly before the vote: "We are a nation of minorities and in a nation of minorities, it is important that you don't cherry pick rights. A right is a right and that is what this vote tonight is all about." Earlier, he had also said, "I rise in support of a Canada in which liberties are safeguarded, rights are protected and the people of this land are treated as equals under the law."
After Martin demanded his cabinet vote for the bill, one cabinet member resigned so that he would be able to vote "no". The next federal elections will be held early next year, and already liberals are fearing a backlash.
Canadian Parliament Approves Same Sex Marriage [reuters]
Historic Commons vote paves way for same-sex marriage across Canada [edmonton journal]