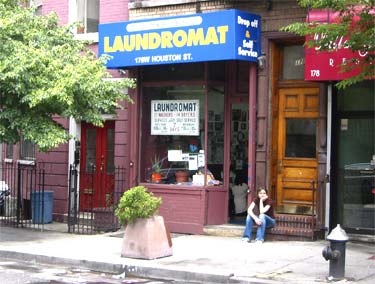 So I took a big bag of my favorite summer clothes to this Wash & Fold on Houston and Bedford last week, and they came back covered in permanent oily spots! When I complained, the grumpy women who work there said there was nothing they could do about it. Not – their – fault.
I'm basically going to have to replace 13 t-shirts, 7 pairs of underwear, and 3 pairs of shorts. Does it suck not having a washer/dryer in my apartment? Yes. But what sucks more is that the Wash & Fold business is so unreliable and won't be held accountable. Last week five pairs of Hanes underwear that weren't mine showed up in the clean laundry bag I received back from them, and I've already had a few articles of my own clothing disappear mysteriously.
So, without a real alternative Wash & Fold nearby, I'm basically at their mercy, which is why I propose that New York City institute a Wash & Fold Bill of Rights like the one they created for taxicab passengers.
As a customer you would have the right to:
* Choice of detergent, fabric softener and bleach.
* Limit on number of articles of clothing crammed into a single washer.
* Double-checking of pockets.
* Separation of whites and colors.
* Inventory of clothing articles with all pieces returned.
* A courteous, English-speaking wash person.
* Hot water and stain remover on demand.
* Clean washing machines and dryers.
* Champagne upon pick-up. (okay that's a bit of a stretch but one can dream)
I realize I may sound like a bitchy old lady but for those of us that pay through the nose only to be rudely addressed when we enter the laundromat, have our clothing slowly ruined wash after wash, and lose beloved T-shirts to the wormhole that clearly exists in most NYC Wash & Folds, it's the least the city can do.
Anybody know any good alternative Wash & Folds in this area? And if any of you happen to frequent this place beware! They may ruin your clothes!
Damn that felt good.