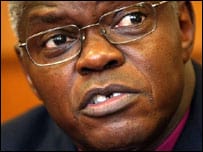 This week's naming of the Right Reverend John Sentamu as the first black Archbishop in the 500-year-history of the Church of England upset many gays within the Church, who point out that Sentamu's record on LGBT issues has been less than conciliatory. Sentamu has supported the 1998 Lambeth Resolution, which states that homosexual practice is "incompatible with scripture" and the archbishop has also stated he believes gay marriage within the church is an impossibility.
Yet recent statements by Sentamu, since his appointment, appear to contradict this perspective. On Sunday, Sentamu told the BBC that homophobia had "no place" in the church.
"I want to say to people, 'Please, please, please don't use such ghastly words,' because every human being regardless of their sexual orientation are standing in for God, each one of them is actually loved of God. And when you use language which implies they were not human beings who are you to do that because you did not create them?'"
The Anglican church has experienced a huge rift in its membership since the New Hampshire diocese appointed openly gay bishop Gene Robinson in 2003.
Sentamu's vow on Sunday to banish homophobia from the church marks a hopeful departure from the anti-gay rhetoric he has used in the past. We'll see if his actions live up to it.
Archbishop Vows to Ban Homophobia [bbc]
Anti-Gay Cleric Appointed Anglican Archbishop [365gay]