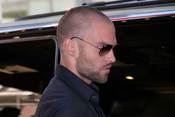 Seann William Scott has sheared the shaggy 'do he sported for The Dukes of Hazzard. It's a bit severe for me. I prefer that drunken fratboy look.

Sean Hayes' new show, Situation: Comedy to debut tonight on Bravo. Reality Blurred has a round-up of reviews on this Project Greenlight-esque show about creating sitcoms.

Matt Damon gearing up to play Lance Armstrong. Movie to be based upon cyclist's biography It's Not About the Bike: My Journey Back to Life
.

New play hijacks Jake Gyllenhaal's name to get my attention. Guess what? It worked.

From the straight-boys-who-like-the-attention dept., Brit singer Lee Ryan claims Elton John has a crush on him: "Elton fancies me I think. He keeps asking me when I'm going to turn gay. That's one thing I am definitely not! Elton rings me and gives me advice all the time. He tells me to stay away from drink and drugs, how to handle everything to do with being famous. He really looks after me."

"Edgy" designer Apollo Braun to hold Nazi-themed fashion show as "personal revenge on Hitler."