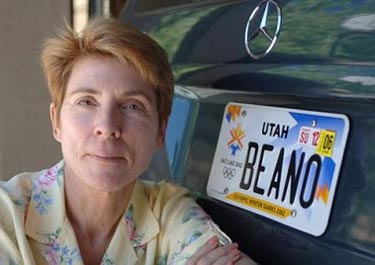 Elizabeth Solomon has won an initial battle against the State of Utah for the right to own license plates tagged with the messages GAYSROK and GAYRYTS. Solomon has a daughter and two close male family friends who are gay.
"The narrow issue before us is whether a reasonable person would believe the terms 'gays are ok' and 'gay rights' are, themselves, offensive to good taste and decency. It is the conclusion of the commission that a reasonable person would not," wrote the judge.
The state can appeal the decision if it chooses.
The courageous Solomon considers it a victory for gay rights though she understands what the repercussions may be: "I'm very prepared to have my car keyed and my tires slashed. I'll just get it fixed. It won't stop me, I'll buy more cars and get more plates."
No word on whether her other fight against intestinal gas has been successful or not. Sorry, couldn't help myself.