I'm on a roll this week with Provincetown, so I think I'll continue. Towleroad correspondent Paul has been doing some research on Massachusetts lately and dug up the following two engravings of Ptown done by John Warner Barber in 1839.
The first, View of the Village of Provincetown, is most likely an early look down Commercial Street (which I believe was then called Front Street). Note the laying out of cod in the sun and the street walkers, ankle deep in sand. We've been trying to figure out why the couple on the right is so little (perspective? children?) compared to the figure on the left but since Provincetown has always lent itself to a circus atmosphere we'll just let that one go. Lots of windmills in that day, eh?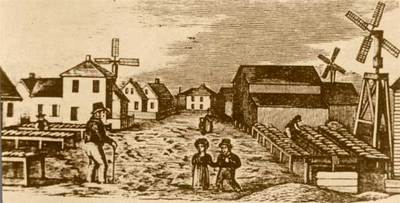 The second engraving, as Paul notes, may show a more momentous event. The first depiction of a male/male couple pointing the way to America's gay seaside playground? Yes, this is just a bit of fun, but note that the one on the left has got his luggage with him. Things have changed quite a bit, haven't they?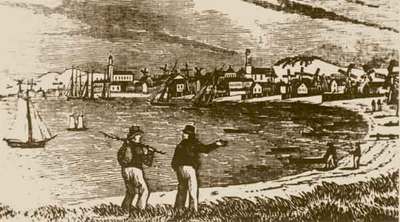 Related
Monumental Sunrise [tr]
4:33 at Herring Cove Beach [tr]
The Summer is Changing [tr]
The Provincetown Miracle Lobster [tr]
Maps and Legends [tr]