Hey folks, I finally got my DVR running so you'll probably be seeing more evidence of screencaps on Towleroad in the future. Let's start with this.
Anybody else catch the craptastic premiere of So You Think You Can Dance?. The American Idol spin-off features dancers instead of singers and utilizes exec producer Nigel Lythgoe as a judge. Lythgoe tries his best bitchy Simon but doesn't come across with half the wit or personality. And whether host Lauren Sanchez writes her own bites or not, some of them are profoundly mean-spirited. Still, I found the show fairly entertaining overall. Here are a few moments:
Anthony Bryant from North Carolina and Lythgoe debated on the topic of masculinity after Lythgoe said Bryant's dancing wasn't manly enough. Note: It's hard to disagree with Lythgoe on this one but I gave Bryant props for taking on the mean old judge.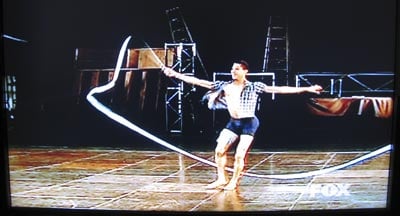 Lythgoe: The bad news is, you are not coming with us to Hollywood. I worried about you when you brought that ribbon out and started dancing with it. I need boy dancers to be strong and masculine.
Bryant: I am strong.
Lythgoe: Sorry?
Bryant: I am strong.
Lythgoe: It did not come across with your partner. You did not look like a masculine dancer with your partner.
Bryant: Really? That's interesting, I've never gotten that before.
Lythgoe: Okay. Well, you've got it now.
Bryant: If you had asked me to dance more masculine, I could have done that. I still can do that.
Lythgoe: But why didn't you? You're a male. Why should I have to ask you to dance—?
Bryant: So you're saying doing this is not masculine?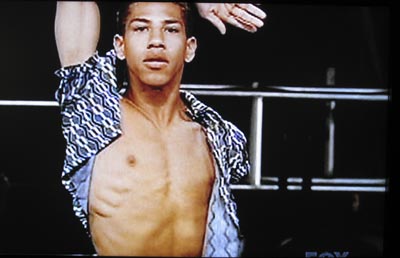 Lythgoe: What? Dressed with your shirt with your chest out like that?
Bryant: Look at Hollywood today, look at media. Everyone's dressing like this – you want me to button it, would that help?
Lythgoe: Do I think you're masculine when you dance? no I don't.
Bryant: Would you give me a chance to be more masculine?
Lythgoe: You were dancing with a partner young man. You were dancing with a partner. Was that partner male or female?
Bryant: She was female.
Lythgoe:Which one would you think I would want to be masculine then?
Bryant: Me, and I was.
Lythgoe: Well that's your opinion. Mine was not.
Bryant: You need to review those tapes a little more I think. Thank you.
My mouth opened in shock when I saw how a foursome of Ukranians was patronized and mocked by the judges, and then dissed by Lauren Sanchez, the host.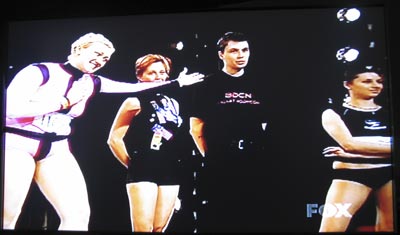 Some English-challenged Ukranians tried to explain what they were going to perform and then did a strange acrobatic routine that bore no resemblance to any of the other dance auditions we had seen.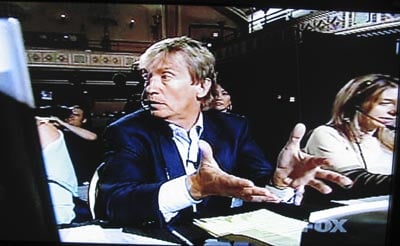 Lythgoe: What was that all about?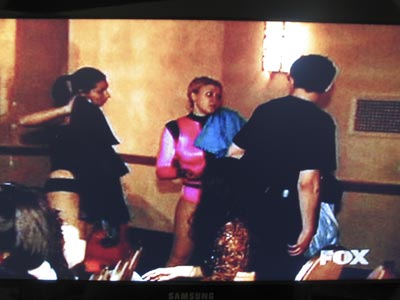 Sanchez: So the incredible strolling Ukranians do what they do best and just…walk around looking confused!. Are they aware they didn't make it? Who knows!?! [tee hee! Aren't idiotic foreigners funny?!?]
Finally, the (ouch) DVR moment of the night came when a backflipping dancer crashed into and shattered a glass table. He may have been terribly hurt (though he wasn't) but the camera man was more interested in laughing than helping.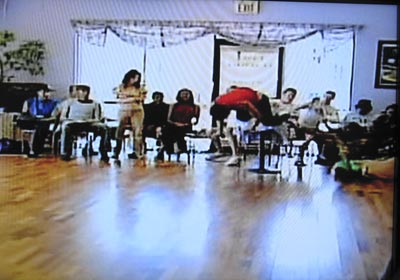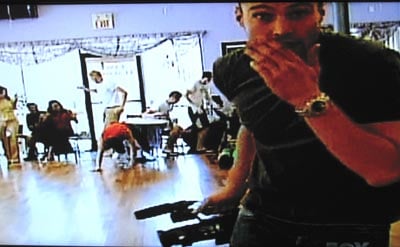 So You Think You Can Dance? was more entertaining than I thought it would be. Given the alternative summer programming it definitely has a leg up on the competition (har har).