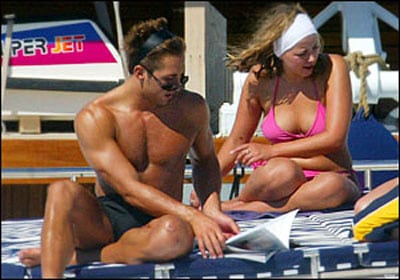 Is Gavin Henson trying to one-up Ian Thorpe?
Our favorite Welsh obsession was snapped on his Ibiza getaway with his hair up in an "Alice band" flipping through a copy of Marie Claire with his girlfriend Charlotte Church, prompting at least one supportive comment from a sports commentator:
"You certainly wouldn't see the forwards sitting round the pool with their head in a magazine like Marie Claire — mostly because they couldn't read. The hairband is showbusiness. But I suppose he can do what he likes if he keeps playing well. It's all part of his image."
And what an image it is.
No nail polish, however.
Related
Beach Bulge [tr]
This Week's Gratuitous Gavin Henson Pin-up [tr]
Because I've Gone a Day Without Mentioning Gavin Henson [tr]
Continental Drift [tr]
Wales Breeds Metrosexuals Too [tr]
Breaking Gavin News [tr]