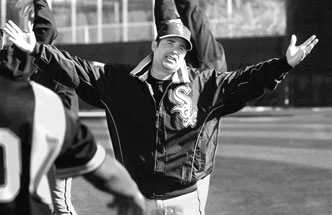 White Sox manager Ozzie Guillen's comments in front of a cadre of news reporters yesterday caused at least one to describe him as "a man in real danger of being strangled by his own tongue."
After hammering a San Francisco radio commentator for being ignorant and not being able to deal with the media, Guillen turned to introduce a friend of his to the swarm of reporters seated in the dugout.
"'Hey, everybody, this guy's a homosexual!' Guillen shouted. 'He's a child molester!'"
Though the reporter guesses that Guillen meant no harm to the gay community, after seeing what was allowed to happen in the 49ers locker room last May, and the ensuing controversy, Guillen would be wise to keep thoughts like those to himself.
A Marge Schott or John Rocker in the making? Doubtful. But the fact that at least one reporter took this story and ran with it is a hopeful sign that these indiscretions will no longer be overlooked.
Better Watch Your Own Worst Enemy [newsday]
Related
49ers Training Video Turns into Team Embarrassment [tr]