BlogActive outs Bush's liaison to the Jewish community, Jeff Berkowitz.

Gay Books on Hit List: "Three of the 10 books most frequently challenged at schools or libraries last year were cited for homosexual themes — the highest number in a decade, according to the American Library Association." They are King and King
by Linda de Haan and Stern Nijland, The Perks of Being a Wallflower
by Stephen Chbosky, and the classic I Know Why the Caged Bird Sings
by Maya Angelou.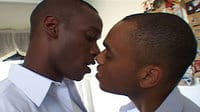 Rod 2.0 has a long conversation with Luther Mace, the director of On the Low, a short about two high school boys falling in love, which is making the rounds at film festivals.
Filmmaking, audience reaction, and capturing the innocence of a first kiss are all covered. Mace: "Yes, it was very evident from their audition that there were … sparks. We did that kiss three times, and when I reviewed the dailies, I was very satisfied with the particular take that I chose. Their scene had gentleness … as you said, tenderness. It was just lovely the way that Deondray stroked Del's head. This was the first time that the characters kissed. It was more like … wonder. They didn't know what to expect."

Proceed at Your Own Risk looks at the launch of China's first gay guide.

Tobias Schneebaum, subject of 2000 documentary Keep the River on Your Right: A Modern Cannibal Tale, died in Great Neck, New York on Tuesday. He was in his mid-Eighties. Keep the River on Your Right detailed the gay explorer and artist's disappearance into the rainforests of Peru where he lived with cannibals only to emerge seven months later naked and covered in body paint.