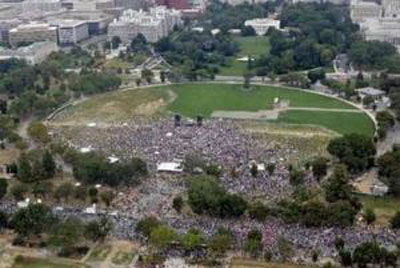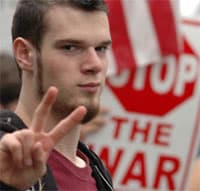 Official word is that more than 100,000 people participated in the war protest over the weekend, which continued today. Conservative pundits have tried to play down the amount of people attending, pointing to the photo above as evidence. What those pundits failed to include in their assessment were the other photos of 15th street showing thousands more people cramming the avenue for miles. Thanks to Think Progress for pointing this out.
Here are some additional, protest-related links that I found interesting today:

PageOneQ offers a selection of protest photos (above left) by Joe Tresh.

BradBlog has posted a selection of video clips from the protest—notably Cindy Sheehan, Jesse Jackson, British MP George Galloway and Representative Cynthia McKinney.

The arrest of Cindy Sheehan in front of the White House today — a cunning stunt?

Not directly related to the protest, but certainly related, are the stomach-turning photos of dead Iraqis and Afghanis appearing on amateur porn sites around the world. Just sick.