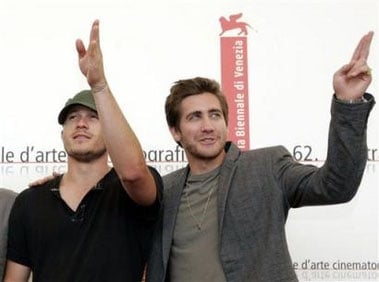 Jake Gyllenhaal and Heath Ledger are looking happy here at the Venice Film Festival for a very good reason. Brokeback Mountain, the Ang Lee drama based on Annie Proulx's novella, which I've been covering here for months, had its premiere over the weekend and is getting rave reviews from American and European critics alike.
EuropeanFilms.net said, "The entire film is very close to the original novella, but for those who have not read it I will not reveal the heartbreaking ending; suffice to say that Lee and his cast and crew have done the near impossible; they have translated one of the most acclaimed American novellas of modern times onto the screen and deliver something that is on par, if not better, than the work that inspired it and yet is completely respectful of its source material."
The Hollywood Reporter said, "Brokeback Mountain" will appeal to moviegoers who enjoy grand filmmaking and poignant love stories, whether gay, hetero or otherwise.
Variety said, "Both young thesps are game, credible as cowboys and unselfconscious with the verbal and physical intimacy. But while Gyllenhaal is engaging as the more free-wheeling of the two, Ledger is powerfully impressive as a frightened, limited man ill-equipped to deal with what life throws at him. Mumbling, looking down, internalizing everything, Ledger's Ennis at times looks as though he's going to explode from his inchoate feelings. Perf could scarcely be more different from his terrific work in the otherwise negligible "Lords of Dogtown," and the combo makes it a dazzling year for Ledger."
Often people ask me why I champion this movie so much. It's because Annie Proulx is one of my favorite authors and I was moved to tears by the story on which the film is based. It appeared first in a 1997 issue of The New Yorker and is the highlight of her collection of short stories, Close Range : Wyoming Stories
. I encourage everyone to read it.
Cowboys in Love….with Each Other [ny times]
Gay Cowboy Film Rides into Venice [bbc]
Brokeback Mountain [official site]
Related
Brokeback Mountain Trailer Online [tr]
Heath on Brokeback: Fear Conquered [tr]
Thoughts on the Brokeback Mountain trailer [tr]
Love is a Force of Nature [tr]
Heath on Brokeback: Best Script Ever Read [tr]
Jake "Coy" on Brokeback Love Scenes [tr]
The Brokeback Tease Continues… [tr]
Cowboy Ballads [tr]
Brokeback Mountain Teaser Trailer [tr]
Heath and Jake Swap Spit [tr]
Cowboy Love [tr]