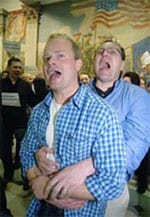 Thomas Lang and Alexander Westerhoff, one of the first gay couples married in Massachusetts, have decided to play hardball with those who decide to sign a petition to put an anti-gay marriage initiative on the ballot in that state. All those who sign the petition will have their names and addresses posted on a public website.
Attorney General Thomas Reilly certified the initiative on Tuesday, giving the go-ahead to signature collectors who hope to get the anti-gay measure on the ballot. They must collect 65,825 signatures and approval from a quarter of state lawmakers for that to happen.
Those signing the anti-gay initiative will have their names, addresses, and zip codes posted on KnowThyNeighbor.org. Westerhoff has already begun introducing himself to some of the petition signers, hoping to make a connection and demystify some of the prejudice toward same-sex marriage.
The couple is seen here in a February 2004 photo, chanting at the Massachusetts statehouse while the legislature debates a proposed anti-gay amendment.
(thanks bill)