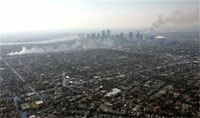 As a follow-up to my post of last evening about press access to Jefferson Parish which has generated some heated comments, Brian Williams offers some insight on the matter:
"While we were attempting to take pictures of the National Guard (a unit from Oklahoma) taking up positions outside a Brooks Brothers on the edge of the Quarter, the sergeant ordered us to the other side of the boulevard. The short version is: there won't be any pictures of this particular group of guard soldiers on our newscast tonight. Rules (or I suspect in this case an order on a whim) like those do not HELP the palpable feeling that this area is somehow separate from the United States…

…Someone else points out on television as I post this: the fact that the National Guard now bars entry (by journalists) to the very places where people last week were barred from LEAVING (The Convention Center and Superdome) is a kind of perverse and perfectly backward postscript to this awful chapter in American history."
And blog Talking Points Memo has a take on what this means:
Take a moment to note what's happening here: these are the marks of repressive government, which mixes inefficiency with authoritarianism. The crew that couldn't get key aid on the scene in time last week is coming in in force now. And one of the key missions appears to be cutting off public information about what's happening in the city.

This is a domestic, natural disaster. Absent specific cases where members of the press would interfere or get in the way of some particular clean up operation, or perhaps demolition work, there is simply no reason why credentialed members of the press should not be able to cover everything that is happening in that city.

Think about it.