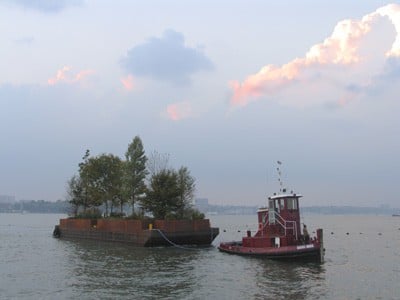 It was a rather gray day on Saturday for the unveiling of Robert Smithson's posthumous realization, Floating Island, but hundreds turned out to view this tugboat pulling a barge full of trees as if the Queen Mary were arriving from her maiden voyage.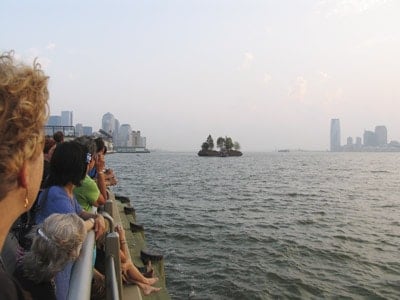 It's not the most aesthetically appealing piece of public art — but of course Smithson's art is more about the concept of displacement — taking a piece of Central Park and putting it out on the water. The most entertaining part of this unveiling were the oohs and aahs from the crowd as the barge approached Piers 45 and 46, where folks had lined up to see the passing of the tiny acre. I could only be amused as the tug pulled by and the crowd let out a huge round of applause for this square chunk of turf.
That itself was worth the trip.
The floating island will be chugging around Manhattan all week. More photos after the jump.