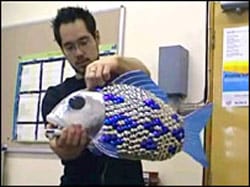 Robotic fish have been unveiled at the London Aquarium that can swim autonomously around a tank, undulate realistically, and avoid objects.
Said Michael Michaels, general manager of the London Aquarium: "It should be entertaining and fun for the visitors. Our main thing is obviously live fish, but the robotic side is really fascinating."
As well as the fact that the glittering fish wear skins designed by Bob Mackie and belt out the theme from The Poseidon Adventure.