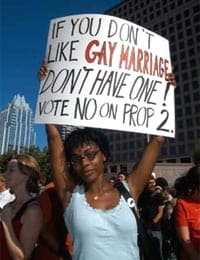 A same-sex marriage ban in Texas is likely to pass in Tuesday's election with the help of low voter turnout, anti-gay campaigns by the KKK, Republicans, and leaders of the black and Hispanic communities.
Over the weekend a rally was held by the KKK in front of Austin's City Hall. Seven Klan members along with five supporters turned out and were met by over 3,000 counter-protesters.
Speaking for Jesus, the Texas Klan Grand Dragon said, "Jesus loves gay people and wants them to repent. Texans will vote for Proposition 2 not because the Klan supports it, but because there are enough people with a sense of morality to not let this happen."
Rick A. Ross, an expert who monitors white supremacy groups, told the Houston Chronicle that the dwindling numbers of the KKK requires them to find hot button causes to latch on to: "I would say the Klan is perhaps politically astute in perceiving that there is a palpable pool of sentiment against the gay community amongst conservative Christians and others who feel threatened by the gay rights movement. That's how I see staging in particular anti-gay rallies as opposed to racist rallies or zeroing in on another minority group that they feel may not be as advantageous or as lucrative."
A cadre of 200 police officers, some in riot gear, kept the public a block away from the Klan in all directions, according to the Associated Press.
Proposition 2, which would declare marriage between one man and one woman goes before Texas voters on Tuesday.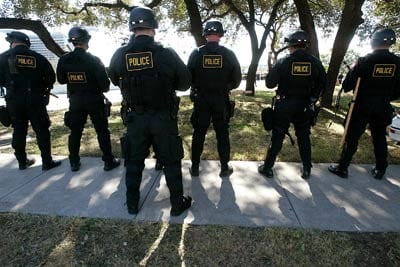 On Friday, a judge in Oregon upheld a gay marriage ban in that state.