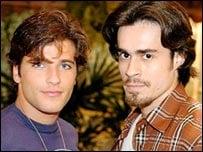 Brazilian TV viewers were left in horny anticipation on Friday evening as the country's first gay TV kiss refused to materialize on the nighttime soap América.
Screenwriter Gloria Perez claims the TV network Globo, cut the scene: "Marcos Schechtman [the director] and I made the scene – it was recorded. We fought for it and I cannot deny that I was frustrated that it wasn't shown. The actors also were [frustrated]. After all, they had staged it with much enthusiasm. Even heterosexual men, who tend to be more conservative, wanted the kiss. Everyone wanted it. I was very happy about it because it showed that things were changing in Brazil."
Actors Bruno Gagliasso and Erom Cordeiro were apparently as shocked as the viewers that the kiss didn't air.
The network denies there was ever a gay kiss.
Brazil Denied First Gay TV Kiss [bbc]
The Non-Existent Gay Kiss: Who Gets the Blame? [made in brazil]
Related
Brazilian TV Gets its Forst Gay Kiss [tr]