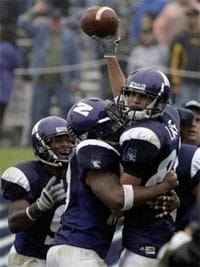 The Ross Lane Fan Club, a website devoted to the objectification of Northwestern University football players and, in particular, wide receiver Ross Lane, was outed to Northwestern's student body Thursday in an article in the Daily Northwestern. The site is run by "sexy straight women and hot gay guys (but mainly hot gay guys) with an arguably unhealthy obsession with Northwestern football and basketball" and focuses on "concepts of masculinity" and "sexual orientation questions" according to a "spokesman".
The football team seems more amused by the attention than anything. Said punter Ryan Pederson: "Pretty much everyone on the team has seen it and everyone gets a kick out of it. It just shows that we have some real dedicated fans." The site's namesake, freshman Ross Lane ("whose dark hair was wet and tousled after being scrunched below a helmet during practice," noted the Daily Northwestern) seemed less amused: "I really forgot about it after the first day I found out about it. There are some things on that site that could be offensive to some people in the program, and I don't really want to have anything to do with that. People tell me it's got to be flattering — it's kind of flattering, but at the same time, it's weird."
Additionally, Towleroad knows a former Willie the Wildcat, Northwestern's plushie mascot, who claims that not only one but at least two gay men have donned that furry suit in recent years, proving that gay men are among NU Football's most fervent athletic supporters.
Objectify This
On that note, here are some sexy shots of Atlanta Falcons defensive end Patrick Kerney (via tottyland) that I was waiting for an appropriate moment to post. Don't know when they're from but they caught my eye. Tight uniforms, sweat, flashes of skin, and lots of body contact – there are plenty of reasons to be a football fan other than the game itself. And the smart players (as the European footballers will no doubt tell you) will take that all the way to the bank.