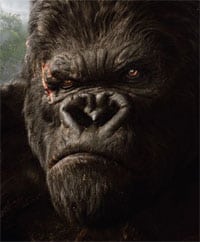 WARNING: SPOILERS AHEAD
Buried somewhere within the three hour CGI spectacular that is King Kong may be a masterpiece, but like the search for the uncharted Skull Island, it'll take some careful navigation to find it. There are some great things to say about the film, but unfortunately, it has some flaws that are difficult to overcome (and might have been overcome in the editing room).
This film presents the greatest evidence so far that human actors may one day be replaced with CGI, for the giant gorilla's performance in this film carries more emotional depth and humor than that of any of the SAG card holders.
The first act of the film is far too long and filled with unnecessary subplots that are devoid of any emotional power and later just killed off (literally) as more important plot points take over. A subplot revolving around young shipmate Jimmy (played by the adorable Jamie Bell) could have been left on the cutting room floor and not hurt the movie at all. I realize the necessity for some exposition before reaching the island but it's not until that happens that this movie truly starts.
There are also some conflicts that are answered too easily. When the film crew reaches Skull Island they are met by a very fierce and angry tribe of cannibals, murderous enough to have killed many explorers before them, yet the small crew conveniently makes them disappear with the use of guns even though they are obviously greatly outnumbered. They very conveniently never reappear.
Adrien Brody may be a wonderful character actor but he's certainly not the type of leading man that this film demands. My relationship with his character fluctuated between repulsion and annoyance. In one scene, as he climbed up a steep, vine-draped ravine, I could have sworn it was Gollum from Lord of the Rings.
Jack Black's line delivery is embarrassingly bad and the last line of the movie, meant to be a grand da-dum moment, is such a horrific cliché I could hardly bear to hear him utter it, for it all but ruined the dazzling array of moments that led up to it. Wait, and cringe.
Naomi Watts, whom I love, has, however, mastered the gazing-wondrously-into-Kong's-eyes facial expression. Unfortunately, we are forced to revisit the same gaze again and again and again.
The soundtrack by James Newton Howard is good but too overbearing at points. It's all hills and few valleys, majestic but not reflective enough, and it left me longing for something from John Williams.
The film borrows steals generously from Titanic in several places. As they boarded the ship I half expected to hear James Horner's energetic soundtrack kick in. Skull Island's wall emerging from the fog could very well have been a giant iceberg, and King Kong's last moments descending from the heights of the Empire State Building as Ann Darrow watches him fall to the street below are a direct echo of Rose pushing a dead, frozen Jack into the bottomless, icy seas as they cling to the wreckage from the sunken ship. It's hard not to watch and feel as if you've seen it all before.
The best scene in the movie by far is a scene that takes place in the bottom of a deep ravine where the party searching for Ann Darrow is overtaken by dozens of giant cockroaches, millipedes, scorpions, and a group of disgusting wormy creatures that can only be described as enormous uncircumsized penises with teeth. Trust me, you'll be squirming in your seat when you see what happens. It's the only scene in the film which I felt I hadn't seen before.
The dinosaur sequences are thrilling and Peter Jackson does Jurassic here better than Spielberg. This is edge of your seat action.
The other completely knockout scene is the climactic gun battle atop the Empire State Building – true genius CGI work here. It ranks among the most visually exciting moments I've seen on film ever. Kong's moments are the best in the movie. When he breaks into Times Square and begins picking up every blonde he can find in search of Ann Darrow and chucking the rejects it's at once hilarious and terrifying. When he finally finds Ann and escapes with her to slide around on a frozen, wintry lake in Central Park the brief moment of peace is exhilarating.
King Kong is a behemoth of a film, and immensely watchable, but in this case, I think less could have been more.