George Michael's documentary A Different Story premieres in London.

AFA still using ex-ex-gay in their propaganda campaigns.

Titanic sank faster than previously thought, researchers say. Explorer who first discovered wreckage unimpressed: "They found a fragment, big deal. Am I surprised? No. When you go down there, there's stuff all over the place. It hit an iceberg and it sank. Get over it."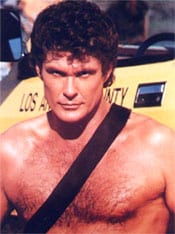 NBC programs now available on iTunes. Selections include Law & Order and The Office as well as vintage shows like Knight Rider.

Elton John and David Furnish will hold their civil partnership at the Guildhall in Windsor where Charles and Camilla recently married.

Scientist have identified the "dog laugh" and have successfully used it to calm dogs kept in kennels: "It's that excited panting along with a big smile you see when a dog greets its people, has a thrilling rabbit chase, takes an invigorating swim in a river or sees its buddies at the dog park."

Antony and the Johnsons hold first concert since winning the coveted Mercury Prize. Boy George guests: "Thank you for embracing one of the most beautiful voices I've heard in a long, long time. Every time I hear him it breaks my heart."

ABBA says they will never get back together. Fluxblog offers up one of the final tracks they recorded — "You Owe Me One". Brilliant!

United front of gay groups calls on Ford to meet with them after religious right successfully pressures Ford to remove ads from gay media.

First-of-its-kind USB turntable will convert your vinyl records (if you've still got them) into CDs or mp3s.