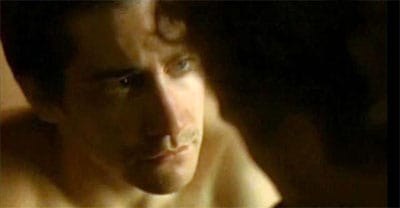 Brokeback Mountain is steaming along in its platform release. It opened in the UK and was a "massive" hit in London cinemas over the weekend, knocking King Kong off his perch and pulling in £306,725.
I believe Brokeback has only been helped by Larry Miller pulling it from his theaters in Utah, as the move made headlines across the country, increasing the film's exposure. The GLBT Community Center of Utah has issued a call to action, asking its supporters to not spend their dollars at the nearly 70 businesses owned by Larry H. Miller holdings. A prominent Mormon, Miller is the owner of the Utah jazz, and many car dealerships.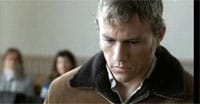 I reported earlier this week that Heath Ledger has spoken out about the Utah incident, likening the actions of Miller to racism: ""I heard a while ago that West Virginia was going to ban it. But that's a state that was lynching people only 25 years ago, so that's to be expected. Personally, I don't think the movie is (controversial) but I think maybe the Mormons in Utah do. I think it's hilarious and very immature of a society. If two people are loving . . . I think we should be more concerned if two people express anger in love, than love."
Ironweed Films has started a petition letter to Larry Miller. An opinion column in the Salt Lake Tribune calls Miller's actions "his loss": "We can only guess that Miller had not actually seen the film at that point. If he had, he might realize that to dismiss "Brokeback Mountain" as a gay movie would be like passing on Moby Dick as a fish story."
Some Mormons are actually pissed too. Read this column from the University of Utah's student paper: "Religious beliefs are religious beliefs, but the truth of the matter is that a good chunk of Mormons in this community are tolerant of homosexuality and have no problem with the thought of a cinematic homosexual romance, especially when their kids won't be able to get in without a parent anyway. Guess what? Aaron Allen and I, the two chief film critics for The Chronicle, are both Mormon, and both of us loved 'Brokeback Mountain.'"
Brokeback has been doing very well on its own, however, without the help of the bigots. You may have heard that it won Best Picture and Best Director as well as tied for Best Supporting Actress (Michelle Williams) at the Critics Choice awards.
It has also been selling theaters out in the heartland and red states, places naysayers warned the film would never fly. Lest people accuse me of only reporting the good news, however, Brokeback was snubbed by the National Society of Film Critics. Capote, another of this year's brilliant (and gay!) films, took top honors.
Here are some additional updates: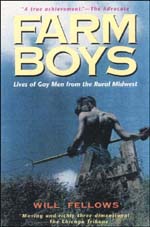 As research for the film, Ang Lee gave the actors copies of Will Fellows' book Farm Boys: Lives of Gay Men from the Rural Midwest
, according to what Jake Gyllenhaal told Boston's In Newsweekly: "Before we started shooting, Ang Lee and James [Schamus, the producer] gave us books about first-hand accounts of guys growing up in the Midwest and their encounters with men and their attraction to men, and what that was, and even they didn't understand what it was, or what they were doing."

Jake also recently talked to Empire magazine about his on-screen kiss with Heath Ledger: "When we kissed it felt like we were exfoliating."

The Capital Times of Madison, Wisconsin went to theaters to get the reactions of straight men who were going to see the movie, finding their reactions to be overwhelmingly positive. Like the reaction of 65-year-old retired state worker Curtis Wittwer: "He counted five reasons for seeing the film: It's a western, it's directed by Ang Lee, the screenplay is co-written by Larry McMurtry and it's been getting rave reviews. Plus, he was egged on after reading a New York Times piece by Larry David in which the comedian satirically complains that watching the movie could turn him gay. 'It was just a beautiful movie. You could feel the pain at the end.'"

Columnist Leonard Pitts explores what is behind the "ick factor" that so many discomfited straight men use as their excuse for avoiding Brokeback: "I find myself wondering if this primeval revulsion doesn't speak less to our antipathy toward homosexuality than to our fears about masculinity. I mean, while a movie about two women in love would surely be controversial, I doubt it would present the visceral threat "Brokeback Mountain" does for some of us. I doubt Larry David would be scared to see it."

The San Jose Mercury News reports on its status as a chick flick, saying that what it succeeds as "female-targeted emotional pornography," a great description imho: "The sight of Jake Gyllenhaal crying in his truck as he drives away from Ennis (who retreats to an alley and vomits in tortured despair) is enough to make even the bitterest woman swoon. That moment, like so many in the film, feels like an epiphany not because of the gay context but because for once someone other than the woman is crying. Traditionally, women have done the heavy emotional lifting."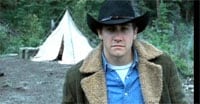 The Flick Filosopher MaryAnn Johanson writes an emotional column on Brokeback: "And I wonder too whether now, Brokeback Mountain won't be real now… not a physical place but a cultural space, a tangible moment in time in which some folks' eyes were opened to the pointlessness and unkindness of their bigotry."

Greenville, Mississippi will get to see the movie, if theater owners can get their hands on a print of it, but folks in some parts of Queensland, Australia are worried it may never get to them. It is making news in Boise!
Whew.

The Towleroad Guide to Brokeback Mountain