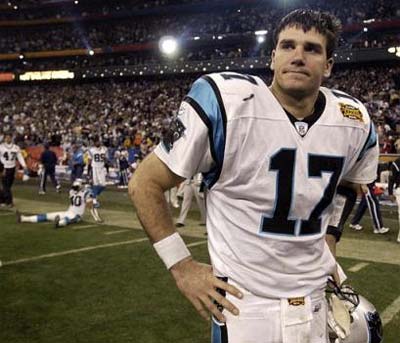 I guess this would be the gay equivalent of the nipple slip? During Sunday's game against the Atlanta Falcons which propelled the Carolina Panthers into the playoffs, 30-year-old Panthers quarterback Jake Delhomme had a portion of his ass exposed by Atlanta's Keith Brooking.
As reported on Outsports, Delhomme said, "I felt a little wind back there," Delhomme said. "The first thing I said was to [backup Chris] Weinke, I said, 'You gotta go in. I got to put some pants on.' I'm just trying to cover up. Man, that's a lotta room that's open. I might have to start wearing a girdle now or wearing some tights underneath. I never do, but I might have to start. I'll be in football history forever, there's no doubt, but not for anything good but for my pants."
Well, losing the pants would go down in the "good" column in a lot of books. Anyhow, Jake was temporarily taped up but later left to change pants, to the dismay of everyone who wanted to see that trapdoor open a little further.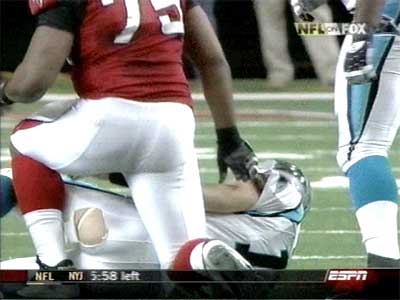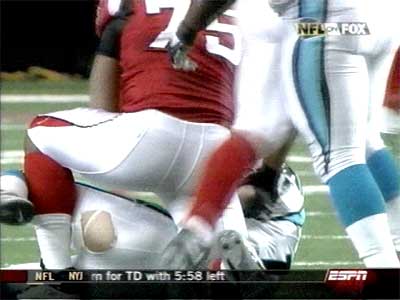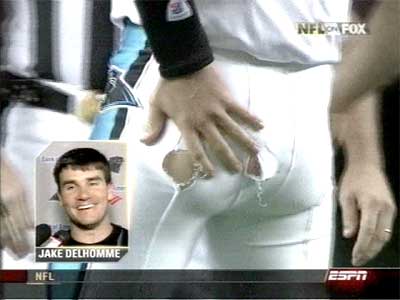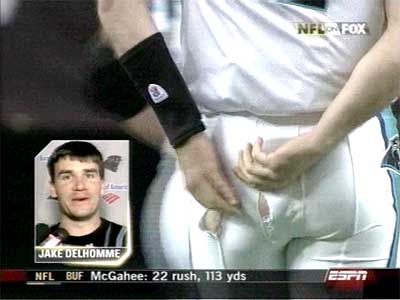 And here's a link to a downloadable clip of the "event". Enjoy.