Wisconsin radio station allows same-sex couples into kissing contest after uproar that gays were excluded for "the comfort and safety of mall shoppers." Maybe they were right. I do know a few guys with some dangerous lips.

Ken doll gets a makeover: "Okay, the people at Mattel are kind of creepy. They may have become slightly deluded over the years and have seemingly forgotten that Barbie and Ken are dolls."

White House never told L.A. they were a terror target.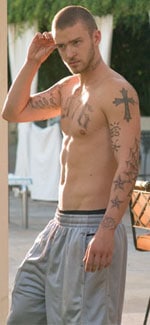 Timberlake fans, the trailer for Alpha Dog has arrived.

A Connecticut judge has reduced the prison sentence of one of the men convicted in the 1988 murder of Richard Reihl, whomas teenagers they beat to death with a fireplace log outside his home. Judge: ""If our society believes in the concept of rehabilitation while in prison, rather than just mouthing the concept, then the petitioner's conduct acquires merit."

Killer of gay man gets new trial after serving 20 years; family must now relive the killing again. "Milano was found murdered along a road in Bristol Township near his burning car. He had been beaten and slashed in the head and face, and his throat was cut so many times that his spinal cord was severed. Jurors in the trial heard testimony that Laird and Chester, believing Milano to be gay, harassed and humiliated him as he tried to get a beer and sandwich, forced him to buy them drinks and then left the bar with him."

Star Jones is Al Reynolds' "Dream".

Jack Abramoff said he met Bush "almost a dozen" times: "The guy saw me in almost a dozen settings, and joked with me about a bunch of things, including details of my kids. Perhaps he has forgotten everything, who knows."