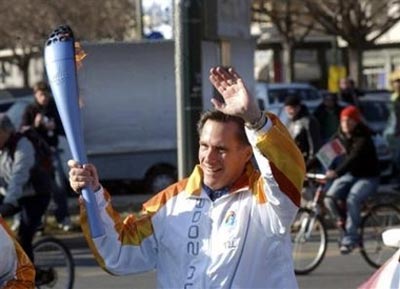 Look who's carrying the Olympic torch through the streets of Turin! It's Mitt Romney, the bigot Governor of Massachusetts and possible future presidential candidate. Before he left, he said: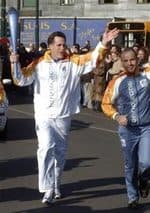 "We're all one people, we're all one family of humankind, and that's something which is celebrated in the human experience."
Every time you have an Olympics you offer the wackos the chance to make some kind of statement. I think the Olympics should be above the politics of the world and the daily issues in the world, and should instead allow young people in the family of humanity to come together and celebrate their athleticism. That's really what's at the heart of what people want. "
"I think people are frustrated with the partisan politics, they're frustrated with constant reports of conflict, and they wish that there were more consideration of the harmony that does exist in the world."
Mitt, was the "one family of humankind" what you were after when you demanded marriage licenses from four Massachusetts towns in May 2004 so you could inspect them for non-resident applicants, or when you threw your support behind an amendment that would overturn gay marriage in that state and take away the rights afforded to same sex couples?
Or how 'bout the anti-gay rainbow tour you went on where you declared, "Today, same-sex couples are marrying under the law in Massachusetts. Some are actually having children born to them. It's not right on paper. It's not right in fact. Every child has the right to have a mother and a father."
Romney is credited with "rescuing" the 2002 Salt Lake Winter Olympics from scandal and bankruptcy.
But his words about the "one family of humankind" are about as hypocritical, false, and hollow as you can get.