UPDATE: German Bremerhaven penguins still gay.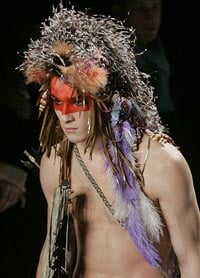 Heatherette brightens Bryant Park.

Howard Stern on Brokeback Mountain: "One of the best films I ever saw. It's an incredibly moving movie. I wish that they would take this movie and force these assholes from the religious right, these perverts, these Taliban mother-f-ers, who want to sit there, and tell gay people they can't get married…It shows you how, when gays have to be closeted, how they ruin the lives of women, and families. Everyone goes through hell. I wish they'd force these religious right assholes who are so sanctimonious because they aren't gay. It is just outrageous. Jake Gyllenhaal and Heath Ledger, they were both terrific in it. "

Clip of Reverend Dr. Joseph Lowery at the Coretta Scott King funeral: "We know now there were no weapons of mass destruction over there [standing ovation]… but Coretta knew and we know that there are weapons of misdirection right down here. Millions without health insurance. Poverty abounds. For war billions more but no more for the poor."

Lowery responds to accusations of politicizing King's funeral.

Czech President Vaclav Klaus likely to veto same-sex partnership bill. In the past, Klaus has spoken out against same-sex unions: "I consider the marriage a traditional institution of one type. Let them arrange their relationship in any way. But I am absolutely against mixing this with family and marriage."