Gatecrasher Widdicombe: Tom Ford wanted Jake Gyllenhaal in the buff for salacious Vanity Fair cover shoot. Can anybody blame him?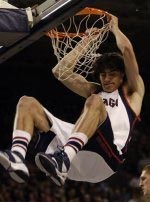 Students at Gonzaga University near Spokane, Washington have been criticized for using "Brokeback Mountain" as a chant during basketball games to insult and intimidate the opposing team, in particular during a recent televised game against Stanford. One professor told the Seattle Post Intelligencer, "Many faculty members have brought up the discussion in their classes. They find none of the students have been comfortable with the chant, and that's a good sign." A member of the gay-straight alliance on campus says the school is having a hard time making LGBT students feel welcome. One senior derided the chanters in a recent school bulletin: "Imagine yourself as a homosexual individual in the midst of your peers, classmates and friends during this 'Brokeback Mountain' cheer. I simply do not understand how a student body claiming to live by Jesuit principles of acceptance and respect for all can allow an incident like this to happen and remain silent."

Czech President rejects calls for same-sex partnership law.

Prince William said to be hanging out with a bad influence.

TAB: Brokeback Mountain inspiring surge in gay cowboy adventure holidays.

Idaho is one step closer to amending discrimination into their constitution as a committee sends a marriage bill to the Senate floor. Folks on both sides of the measure spoke out. Said Laurie Burchfield: "The two most loving homosexual men can never be a mother to a little girl or a little boy. The two most loving mothers in the world can never be a father to a little girl or a little boy." A lesbian mother with a partner and two children replied, "In an absolute heartbeat, I would give my own life for [my children]. To me, that is love, and love makes a family. Please think deeply about the proposal before you now. Just because my family make-up is different from yours, does not make us any less a family."