Seattle's Best: The coffee cup that loves you back.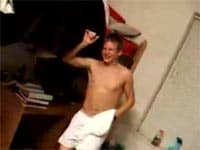 Matt at DudeTube has become quite the curator of hot videos of boys dancing in their underwear for no reason at all, culled from various YouTube offerings. (via notthatboy)

Pink is the New Blog from inside the Grammys.

Google Maps discovers 40-meter profanity from space.

Gay baseball love story The Dreyfus Affair has been optioned by producer Andrew Lang. Peter Lefcourt, the novel's author, will pen the script.