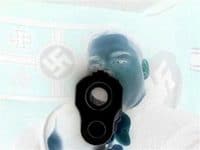 The photos here come from 18-year-old Jacob Robida's MySpace site. His online persona, Jake Jekyll, professes an interest in the Insane Clown Posse, Nazi propaganda, hallucinogenic drugs, and an obsessive attraction to killing and death. Clearly not the website of a stable individual.
Robida left three men wounded in an attack at Puzzles Lounge, a gay bar in New Bedford, early Thursday morning. One of the victims has spoken to the Associated Press:
"[Robert] Perry was discharged today from Beth Israel Deaconess Medical Center in Boston. He has a black right eye, a five-inch scar on his right cheek, and a bullet hole in the center of his back just to the right of his spine. The Dartmouth man says he was hit in the face with a hatchet first, then shot. He says he was sure he was going to die — and thought 'This is the end.'"
The other two victims, Alex Taylor and Luis Rosado, remain hospitalized.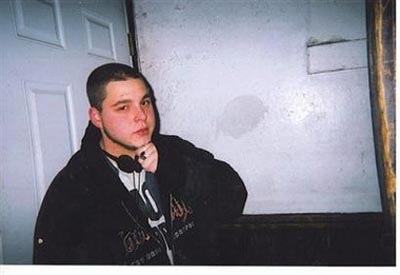 One friend of Robida's "identified herself as 'part black and a lesbian' and said Robida never expressed any hostility toward gays."
Representative Barney Frank, the openly gay congressman whose district includes New Bedford, made a point of distancing Robida from the town's general population: "This is not some general problem with the people of New Bedford. This is one disturbed 18-year-old."
Previously
Police Identify Suspect in New Bedford Attack [tr]
Sicko on the Loose in New Bedford Attack [tr]
Related
Suspect's Friends Jolted by Gay Bar Attack [ap]
The Night Mr. Jekyll Walked into Puzzles [huff's crime blog]
Mr. Jekyll's Friends React [huff's crime blog]