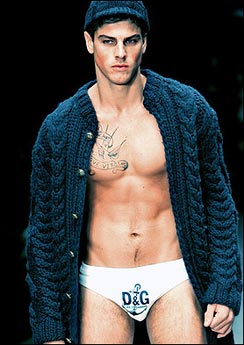 Men finally getting attention in Paris lingerie shows. Maybe we should call it "loingerie".

Heath Ledger says his SAG awards goofiness happened because he had no idea he was going to be asked to speak and didn't rehearse, and he's stood like a teacup since he was a child: "I am so sorry and I apologize for my nervousness. I would be absolutely horrified if my stage fright was misinterpreted as a lack of respect for the film, the topic and for the amazing filmmakers."

Oliver from Thought Not becomes a "jew bear" runway model.

Is this a real Andy Warhol? Duh, it's Gus van Sant.

Fred Phelps planning to picket funeral of Coretta Scott King.

Early Madonna video where she "fries" an egg on her stomach surfaces. (via pink)

Chris Matthews: Maybe liberal gays are burning down Southern churches.

Puzzles Lounge, the site of this week's anti-gay shooting, has been harassed plenty over the years: "The bar has been egged, cars parked outside have had windows smashed, and teenagers have thrown rocks and bricks at the building's facade for years, said Dan Sheteron, 51, who lives upstairs from the bar. The side of the building is often defaced with anti-gay graffiti."

Gatecrasher Widdicombe: Hedi Slimane defecting to Yves Saint Laurent?