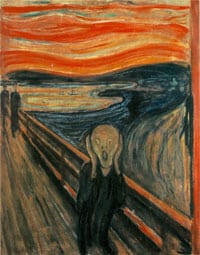 Six men to stand trial for 2004 theft of Munch's "The Scream".

Robbie Williams earned £30,000 a day in 2005 but has said in the past that money ain't much to him: "Sometimes I feel like giving it all away. In my darkest moments I'm convinced life would be much easier if I didn't have as much as £100. Then I could walks the streets as a free man, meet a girl – and live the quiet life I long for."

Tom Cruise is reportedly PO'ed that biographer Andrew Morton has hired former gay porn actor/director Paul Baressi to dig up information on the Scientologist. Said Cruise's lawyer Bert Fields: "I wrote a letter to Mr Morton back in November and said he obviously was entitled to write the book but 'make sure you check your facts'. If he tries to use my letter to create the impression that Mr Cruise did have a gay affair, we will certainly sue … because the story is false. Mr Cruise is not gay."

Microsoft to challenge Blackberry's wireless email dominance.

Six Las Vegas area high school basketball players may face sexual assault charges after an alleged violation that took place after school on the indoor basketball court: "The incident, which took place about 5:45 p.m. on Feb. 3 in the school's gymnasium, involved members of Sierra Vista's boys varsity basketball team. Six or more players jumped a newcomer to the squad and took him to the floor. One or more of the attackers inserted fingers into the victim's rectum, sources said."