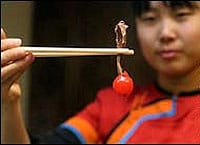 Those of you who get the occasional craving for horse cock are in luck. A new restaurant has opened in Beijing that specializes in such dishes, which promise to improve virility.
On the menu are the male sexual organs of yaks, donkeys, dogs, oxen, seals, horses, goats, and deer.
Waitresses participate in special training to work at the restaurant:
One speciality, Canadian seal penis, costs a hefty £220, and requires ordering in advance. Miss Liu confessed that Guo-li-zhuang was an unusual place to work, partly because of her training – she has to recite tales proving the vigour of the animals in question as they are being eaten – and partly because of the interaction with the clientele. "I did find it embarrassing at first," she said. "And sometimes the customers take advantage of me by asking rude questions."
The reviewer for the UK Telegraph found the dog penis "rather gamey" and the horse and donkey testicles "slightly crumbly", although they're not recommended for women because the testosterone "may interfere with fertility."
Gobble gobble!