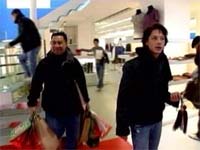 Former Philadelphia Eagle Vai Sikahema goes shopping with Johnny Weir in Torino. Here's Vai's setup as Johnny arrives:
Tucked into this size 2 jacket was a grey scarf, so perfectly arranged, it was a contrast against a mop of hair that looked tussled, unkempt and dyed an auburn color. Across his chest was the strap of his Louis Vuitton purse. Not bag. Purse!

We had to walk about a block to meet our driver and as we made our way, I said to him, "Johnny, we were told we have an hour with you. We're down to 30 minutes and unfortunately, it'll take that long to get to the shops. Would you give us 30 more minutes to do this story right?"

His response stunned me. "Honey, I've got all day."

Not that he had all day. That he called me "Honey."

I played along and said, "You're such a diva!" Honest truth.

He giggled and said, "I am a princess."
This flirty "man date" might have been a little more interesting had I not seen it all on Queer Eye a million times before. I love the fact that all the press on Johnny Weir is petite, flamboyant, diva, yet nobody ever directly points directly at that big pink elephant in the room. I guess some things can just be assumed.
Still, Johnny Weir has been the most entertaining thing about this entire Olympics.