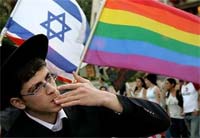 A planned Gay Pride parade in Moscow this spring has inspired a call for violent protests from Russia's top Muslim leader, Mufti Talgat Tajuddin.
According to MosNews, Tajuddin said "gays could be beaten" if they go ahead with the parade and celebrations: "Muslims' protests can be even worse than these notorious rallies abroad over the scandalous cartoons."
A leading Russian rabbi concurred. "I would like to assure you, that the parade of homosexuals it is not less offensive to the feelings of believers than any caricatures in newspapers," said Rabbi Berl Lazar, calling the planned parade "a blow for morality."
Parade organizer Nikolai Alekseyev responded: "Any comparison between the march for human rights and against discrimination with the publication of cartoons is nothing more than an attempt to incite hatred toward sexual minorities."
The Mayor of Moscow has said the city will not allow the parade in any form and "severe suppression" will occur if any attempts to organize do occur.
Russian Chief Rabbi Echoes Muslim Leader in Protesting Gay Pride in Moscow [mosnews]